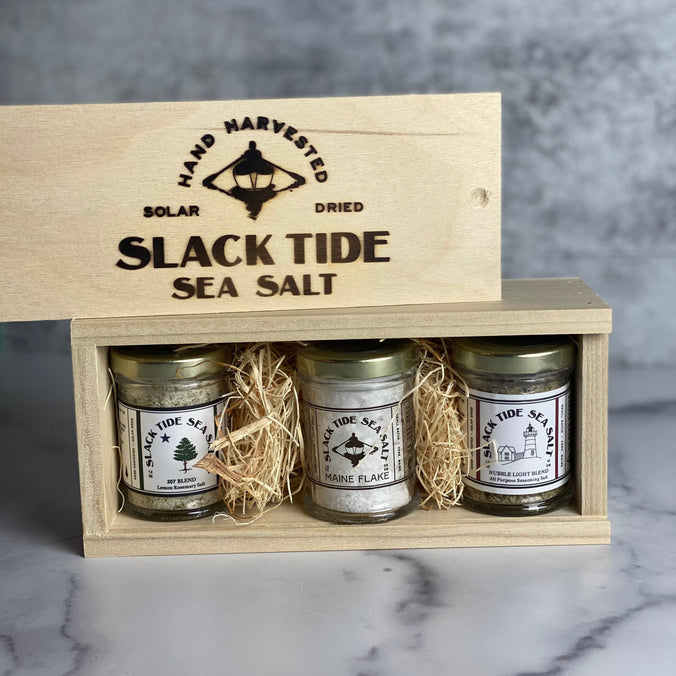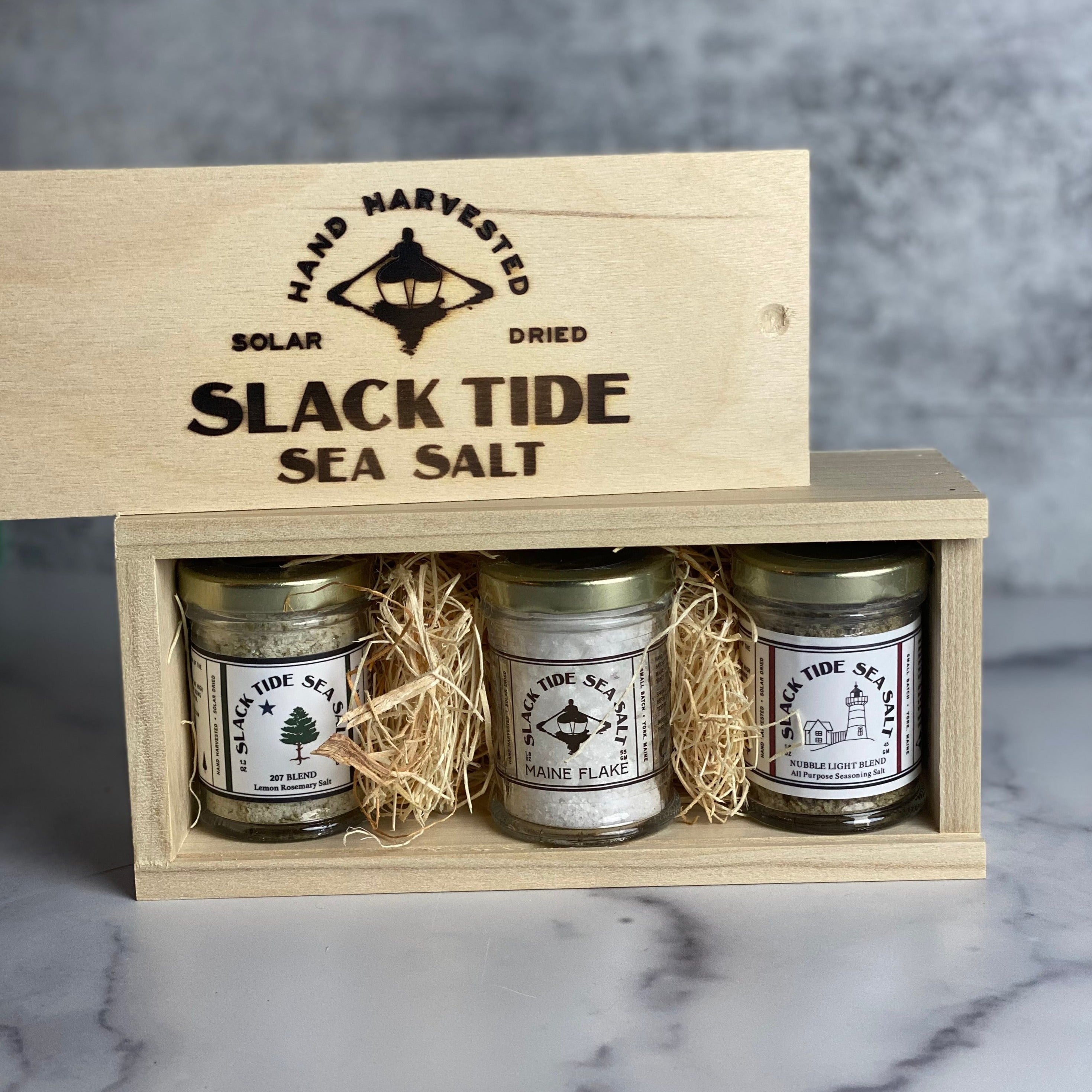 Slack Tide Maine Sea Salt - SOLD OUT
Select quantity below
$27.95
• Shipped directly from our Portland Maine Wharf location.
• Order online and get delivery to your front door.
• FREE overnight shipping options available!
• Gift Messages can be written at checkout and included with orders.
Slack Tide Maine Sea Salt specialize in solar evaporated, flaky small batch sea salt from the deep ocean waters off the coast of Maine. They are woman owned and operated.
Maine Flake (1.5 oz jar) - Pure Maine flake finishing salt. Top everything with this salt before serving for delicious texture and flavor. 
207 Blend (1.5 oz jar) - Citrus and pine aromas from this rosemary lemon salt compliment any poultry or vegetable dish, also makes and excellent dipping oil when mixed with EVOO. 
Nubble Light Blend (1.5 oz jar) - Wicked good on Everything! This is our all purpose seasoning that really works on just about every savory dish. Build flavor in soups, use as a dry rub on steaks, or top your mac and cheese!
Slack Tide Maine Sea Salt quick facts
- Hand harvested in Maine

 

- Great finishing salt
Shipping & Handling
Your order will be packaged and shipped on the same day for overnight next day delivery. Place your order midnight the day before your order ships for next day delivery. We can ship for a Tuesday to Friday delivery date. 

Pre-order any time. 
Free Overnight Shipping Options Available



ZONE

Overnight Shipping Cost

Zone 1/New England

(ME, CT, VT, NH, MA, CT, RI)

Orders over $150 ship FREE 
 
 
Orders under $150 = $35

Zone 2/New York-New Jersey

Orders over $200 ship FREE
 
  
Orders under $200 = $45

Zone 3
 

(PA, DE, MD, DC, VA, NC, SC, GA, OH, WV, TN, AL, MI, IN, KY, WI, IL, MN, IA, MO)

Orders over $300 ship FREE
 
 
Orders under $300 = $65

Zone 4


(FL, CA, OR, WA, ID, NV, ID, UT, AZ, MT, WY, CO, NM, ND, SD, NE, KS, OK, TX, AR, LA, MS)

Orders over $375 ship FREE
 
   
Orders under $375 = $80

SoPo Quality Guarantee
We stand by the quality and freshness of our product at SoPo Seafood. If you are not 
100% satisfied with your order
, please contact us immediately at (877) 282-7676 or email sales@soposeafood.com for a full refund/reship.
Your Trusted Source for Fresh Maine Seafood
We bring the coast of Maine to your kitchen! Our location on Portland Maine's working waterfront allows us to source the freshest, highest quality seafood Maine has to offer.

We are the trusted choice of home delivery shoppers across the USA who seek premium quality, fresh-caught Gulf of Maine seafood.
Other Great Seafood Options
Maine Lobster Meat
2 lb bag
View Product
Fresh Maine Haddock Fillet
Sold by the lb
View Product
Jumbo Sea Scallops
1 lb bag
View Product
Hackleback Caviar
View Product
Alaskan Salmon Roe
View Product
Osetra Caviar
View Product