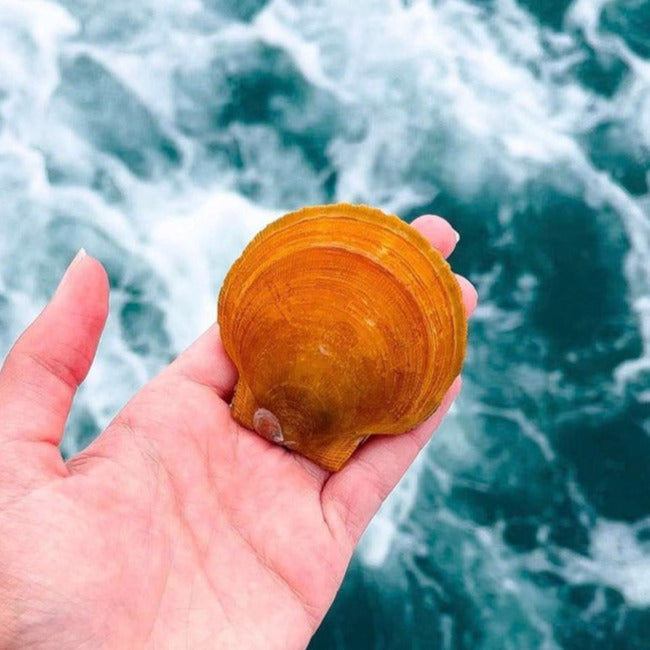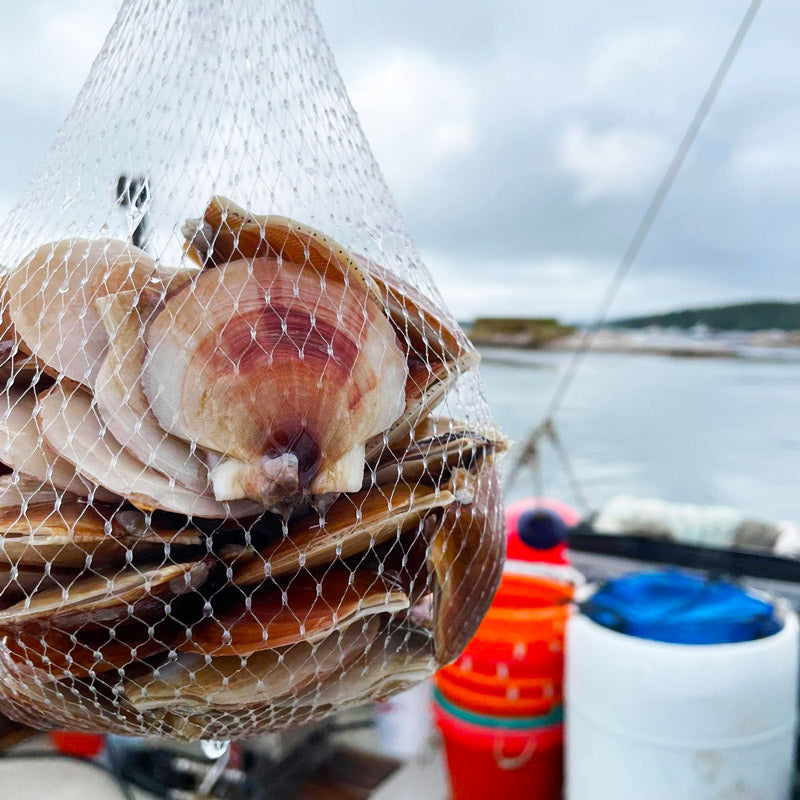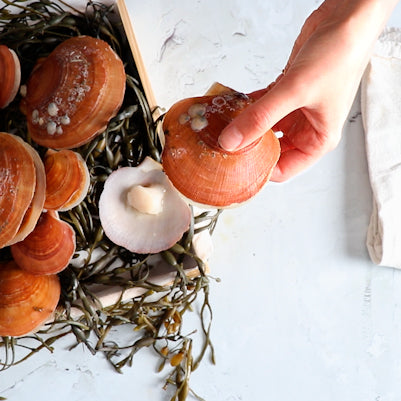 Live Maine Sea Scallops (in the shell) - Featured in the New York Times
Select quantity below
$50.00
• Shipped directly from our Portland Maine Wharf location.
• Order online and get delivery to your front door.
• FREE overnight shipping options available!
• Gift Messages can be written at checkout and included with orders.
Our Live Maine Scallops are grown and harvested out of Stonington, Maine by Maine aquaculture pioneers Marsden and son Bob Brewer. Their farm was featured in a New York Times article, "Sea Scallops Farmed in Maine Aren't Just Sustainable. They're Helping Their Habitat."  After decades of work in the Maine fishing and aquaculture industries, the Brewer's fully deserve this recognition. 

Live Maine Sea Scallops (in the shell) are available to order online for overnight shipping to your door from our shipping facility in Portland, Maine. You can also order them online for pick-up at our South Portland Fish Market.
The photo above shows live scallops being pulled from the water - taken during SoPo's visit to the farm.
How to order our Live Scallops
Orders for our live scallops must be placed by midnight on Tuesday for a Thursday delivery or pick-up. Orders placed after Tuesday will be shipped/delivered the next Thursday, depending on the scallops availability/weather. The scallops are delivered to us fresh out of the water on Wednesday by Marsden.
SoPo & the Briny Babe Visit Maine Scallop Farm
Check out the video below to watch a behind-the-scenes video of how Live Scallops are farmed in Maine. Video by Jacqueline (AKA the Briny Babe) during our joint visit to the farm last year.
How to Handle and Prepare Live Sea Scallops

Upon delivery, refrigerate the live scallops immediately. We recommend cooking or preparing these scallops the day you receive them. 
You can prepare these live whole scallops in several ways. One way is to shuck them like you would an oyster. Once you shuck the scallop, you will see a black piece, that is the belly. You should cut the belly out. Once the belly is cut out, the meat is edible as sashimi. 
Above: Maine scallop farmers Marsden Brewer (left) and son Bobby (right) during SoPo's visit to the scallop farm.
You can also steam these scallops to prepare them. They take approx 1 minute to steam. This process is called a steam shuck. Once steamed, you must again cut the belly out. Once the belly is out, you can eat the rest of the meat.
The photo above is of a steam-shucked live scallop.
We strongly recommend eating the whole scallop like an oyster, not just the abductor mussel you typically receive when ordering scallops.
Live Scallops from the Sea Floor to Your Door
These scallops will be alive when you receive them. The scallops are taken directly out of the water in Maine and will be hitting your doorstep in approx. 24 hours. 
The photo above is of fisherman Marsden and his wife Donna during a visit to the SoPo Seafood Market & Raw Bar. 
Please note: We pack and prepare all orders on the day of shipping to ensure quality and freshness.
Free Overnight Shipping Options are Available



ZONE

Overnight Shipping Cost

Zone 1/New England

(ME, CT, VT, NH, MA, CT, RI)

Orders over $150 ship FREE 
 
 
Orders under $150 = $35

Zone 2/New York-New Jersey

Orders over $200 ship FREE
 
  
Orders under $200 = $45

Zone 3
 

(PA, DE, MD, DC, VA, NC, SC, GA, OH, WV, TN, AL, MI, IN, KY, WI, IL, MN, IA, MO)

Orders over $300 ship FREE
 
 
Orders under $300 = $65

Zone 4


(FL, CA, OR, WA, ID, NV, ID, UT, AZ, MT, WY, CO, NM, ND, SD, NE, KS, OK, TX, AR, LA, MS)

Orders over $375 ship FREE
 
   
Orders under $375 = $80
Live Maine Sea Scallops quick facts
- Farm-raised in Penobscot Bay, Maine.
- 3 inch whole live scallops.
- Ships and arrives live.
- Sustainably raised.
- Shuck for Sashimi or Steam

Buy Live Whole Sea Scallops Online for Overnight Delivery
Your order will be packaged and shipped on the same day for overnight next-day delivery. Place your order midnight the day before your order ships for next-day delivery. We can ship for a Tuesday to Friday delivery date. 
Pre-order any time. 
SoPo Quality Guarantee
We stand by the quality and freshness of our product at SoPo Seafood. If you are not 100% satisfied with your order, please get in touch with us immediately at (877) 282-7676 or email sales@soposeafood.com for a full refund/reship.
Your Trusted Source for Fresh Maine Seafood
We bring the coast of Maine to your kitchen! Our location on Portland Maine's working waterfront allows us to source the freshest, highest quality seafood Maine has to offer.

We are the trusted choice of home delivery shoppers across the USA who seek premium quality, fresh-caught Gulf of Maine seafood.
Other Great Seafood Options
Maine Lobster Meat
2 lb bag
View Product
Fresh Maine Haddock Fillet
Sold by the lb
View Product
Jumbo Sea Scallops
1 lb bag
View Product
Hackleback Caviar
View Product
Alaskan Salmon Roe
View Product
Osetra Caviar
View Product