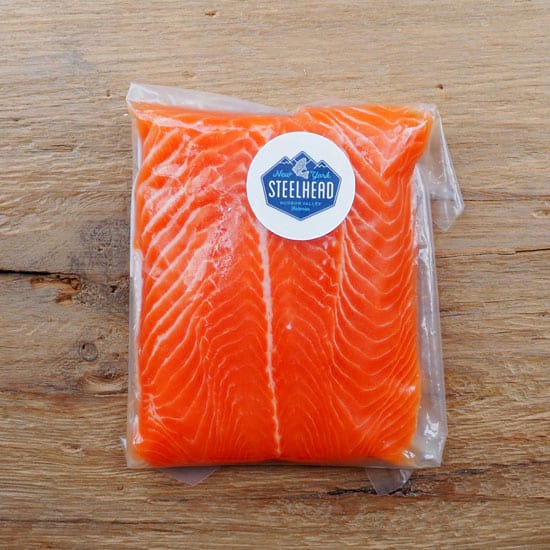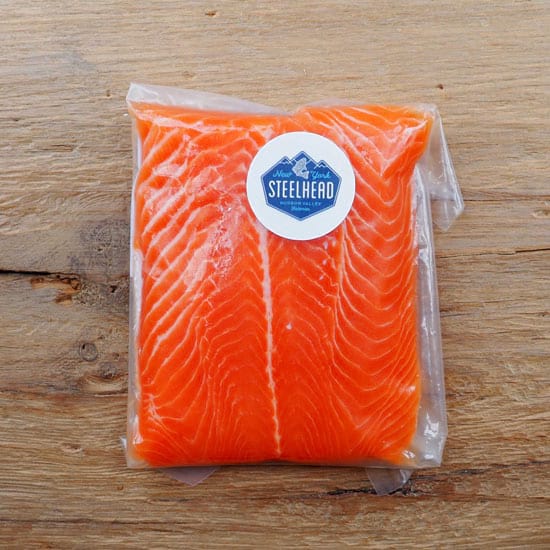 Hudson Valley Steelhead Trout Fillet (1 Lb)
Select quantity below
$22.00
• Shipped directly from our Portland Maine Wharf location.
• Order online and get delivery to your front door.
• FREE overnight shipping options available!
• Gift Messages can be written at checkout and included with orders.
Hudson Valley Fisheries is a state-of-the-art Trout Farm based in New York. 
Their fish are never treated with antibiotics, vaccines, or growth hormones. They are 100% free of mercury and micro-plastics. Their feed ingredients are all organic and non-GMO.
Hudson's Valley is a completely self-contained and land-based farm. The aquaculture system converts fish waste into organic fertilizer, ensuring zero impact on our ocean and the wild fish populations.
Fresh New York Trout Fillet
Each fillet is individually deboned and vacuum-packed. The fillet arrives at your door super fresh soon after harvest. 
The fillets can be frozen and stored for 6 months or cooked within 4-5 days of receipt for best results. Loaded with Omega-3s, New York Steelhead is as nutritious as it is delicious!
The superior freshness of the New York Steelhead gives it a super clean, mild flavor, slightly more firm and less oily than salmon.
You should prepare this trout just like you would salmon. 
New York Steelhead Trout quick facts
- Raised in a sustainable RAS in New York
- Organic feed and no use of antibiotics or hormones
- Portions are fresh and never frozen
- Crudo, sear, stir-fry, chowder
Buy Fresh Trout Online for Overnight Delivery
Your order will be packaged and shipped on the same day for overnight next day delivery. Place your order midnight the day before your order ships for next day delivery. We can ship for a Tuesday to Friday delivery date. 
Pre-order any time. 
Local Delivery/Drop Off in Greater Portland, Maine
If you are local to Greater Portland we will deliver your order on our trucks. We offer local delivery/drop off in Portland, South Portland, Westbrook, Cumberland, Yarmouth, Falmouth, Scarborough, Cape Elizabeth, Saco, Biddeford, Biddeford Pool, Old Orchard Beach, Arundel, Kennebunk, & Kennebunkport. For next day local delivery, please order by midnight the day before.
SoPo Quality Guarantee
We stand by the quality and freshness of our product at SoPo Seafood. If you are not 100% satisfied with your order, please contact us immediately at (877) 282-7676 or email sales@soposeafood.com for a full refund/reship.
Your Trusted Source for Fresh Maine Seafood
We bring the coast of Maine to your kitchen! Our location on Portland Maine's working waterfront allows us to source the freshest, highest quality seafood Maine has to offer.

We are the trusted choice of home delivery shoppers across the USA who seek premium quality, fresh-caught Gulf of Maine seafood.
Other Great Seafood Options
Maine Lobster Meat
2 lb bag
View Product
Fresh Maine Haddock Fillet
Sold by the lb
View Product
Jumbo Sea Scallops
1 lb bag
View Product
Hackleback Caviar
View Product
Alaskan Salmon Roe
View Product
Osetra Caviar
View Product