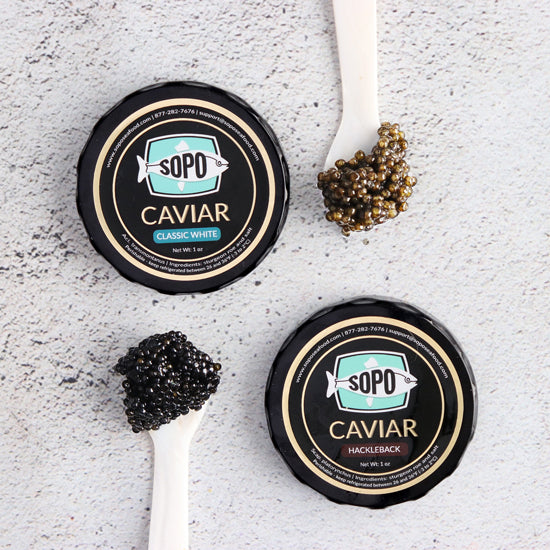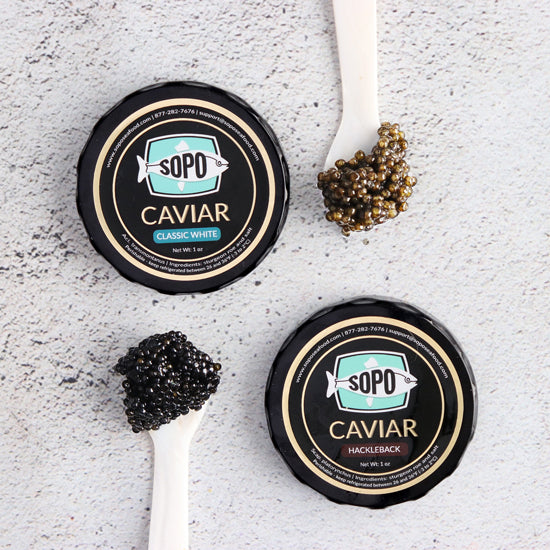 American Caviar Gift
Select size of caviar jar/tin below
$84.99
• Shipped directly from our Portland Maine Wharf location.
• Choose your shipping date at checkout.
• Overnight next day shipping available across the United States.
• Custom Gift Messages can be written at checkout and included in orders.
Our American Caviar Gift includes two exquisite caviars, White Sturgeon and Spoonbill with one mother of pearl spoon to enjoy them with. 
Have fun contrasting and comparing these caviars at home, you won't be disappointed. 
Included in the American Caviar Box:
- 1 or 2 Ozs of White Sturgeon Caviar
- 1 or 2 Ozs of Wild Spoonbill Caviar
- 1 Mother of Pearl Spoon
We lovingly put our Gift Boxes together, using only recyclable materials; including a compostable denim insulation instead of Styrofoam.
We ship our caviar via next-day priority overnight delivery. Buy your caviar online before 8 AM Monday-Thursday and receive it the next day! Future/custom delivery dates can be selected at checkout.
Please note: We pack and prepare all orders the day of shipping to ensure quality and freshness.
Free Overnight Shipping Options Available



ZONE

Overnight Shipping Cost

Zone 1/New England

(ME, CT, VT, NH, MA, CT, RI)

Orders over $150 ship FREE 
 
 
Orders under $150 = $35

Zone 2/New York-New Jersey

Orders over $200 ship FREE
 
  
Orders under $200 = $45

Zone 3
 

(PA, DE, MD, DC, VA, NC, SC, GA, OH, WV, TN, AL, MI, IN, KY, WI, IL, MN, IA, MO)

Orders over $300 ship FREE
 
 
Orders under $300 = $65

Zone 4


(FL, CA, OR, WA, ID, NV, ID, UT, AZ, MT, WY, CO, NM, ND, SD, NE, KS, OK, TX, AR, LA, MS)

Orders over $375 ship FREE
 
   
Orders under $375 = $80
Include a Custom Written Gift Card
At checkout you can write a gift card message to the recipient of your gift. These are hand-written and then included with your order. 
SoPo Quality Guarantee
We stand by the quality and freshness of our product at SoPo Seafood. If you are not 
100% satisfied with your order
, please contact us immediately at (877) 282-7676 or email sales@soposeafood.com for a full refund/reship.
Your Trusted Source for Fresh Maine Seafood
We bring the coast of Maine to your kitchen! Our location on Portland Maine's working waterfront allows us to source the freshest, highest quality seafood Maine has to offer.

We are the trusted choice of home delivery shoppers across the USA who seek premium quality, fresh-caught Gulf of Maine seafood.
Suggested Caviar Accompaniments